I miss my blog. I really do. So I've decided to come back and tell you guys why I've been a bit elusive as of late. You see, I have a problem…a bunny killer if you will. Yep. "Stalker Time" folks.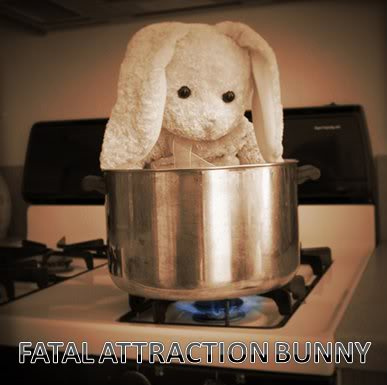 The Bone has a crazed lurker who can't seem to figure out how to take "No" for an answer and skulks around this blog, my blog, reading the posts and transforming them into words of encouragement, no matter the topic. What to do? Hence my dilemma.
I get phone calls, text messages, e-mails, even had a unwanted, uncalled for, face-to-face encounter in my driveway as I was loading my truck preparing to leave for vacation. Great way to start off, huh? Well, heeding very wise advice from my sister, I've decided not to let this non-entity take my power any longer. In other words, The Bone is back!
I will blog when and what I want to blog and I don't care what the bunny killer thinks. As a matter of fact, I will document everything from now on for the legal action I am about two minutes away from taking. So, bear with me please. I've had to change all the locks on my house to get my sense of security back there and even passwords on my computer (oh yes, got hacked but that was reported straight away) however, I refuse to give up my serenity…not now, not ever.
I know who I am and I know who's I am. So, hang on folks, we've got some Bone Collecting to do!!
"No weapon formed against me will prosper" (Isaiah 54:17)